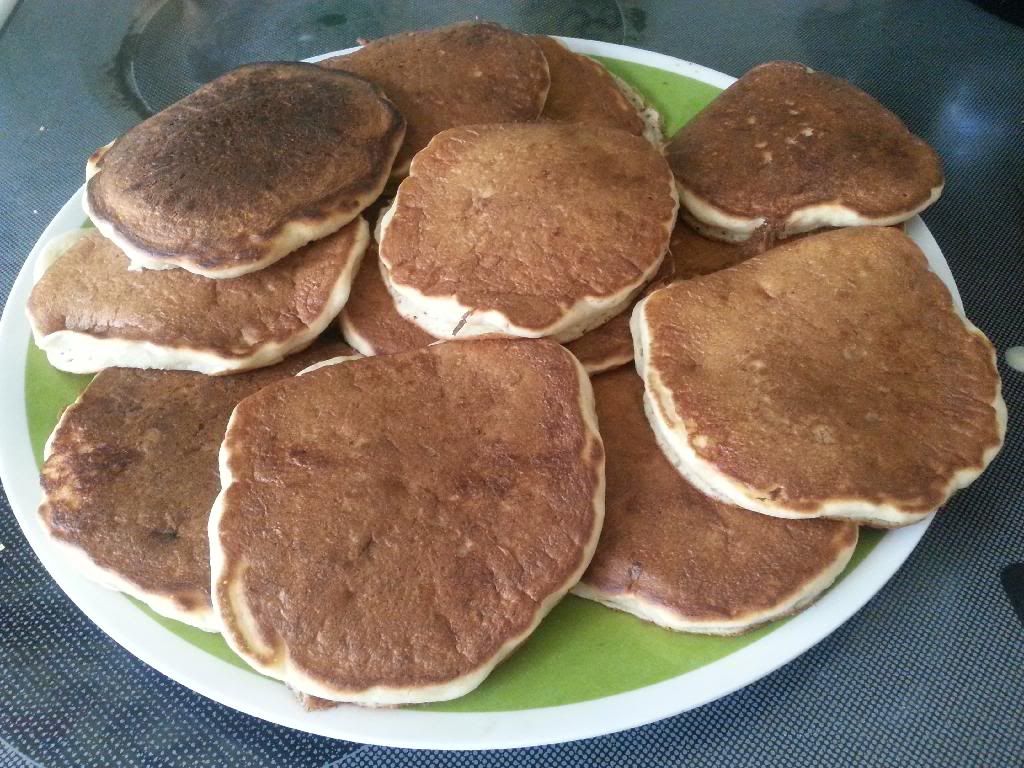 Pancakes are fun because you can make them as healthy or UNhealthy as you want to. I used fun and chemistry to make these vegetarian (would be vegan if it werent for BUTTER but obviously thats an easy replacement away as well.)
Let me spout off some
ingredients
and explain to you why science will make you happier and healthier as we go along. This makes enough for about
First you're going to need to make buttermilk! This can be done with ANY milk alternative (even milk if you really want and don't have buttermilk) I use soy because that's what WIC gives me, but Id prefer coconut milk. Whatever, it gets cooked up so its not that big of a deal.
1 Cup of milk (alternative)

1 Tablespoon of Vinegar (I use ACV for health benefits as well as extra sweetness)
Stir then let science do its thing for about 5 minutes. ( I usually just do this first and its done by the time everything is ready to be mixed together. It just get thicker and chunkier. Different milks and brands will have slightly different results, but this is of little concern to you.)
In a bowl mix the dry ingredients, which are:
2 Tablespoons of Sugar

1/2 teaspoon Baking Soda

1 teaspoon of Baking Powder

1/2 teaspoon salt ( I use Himalayan but for the best for your family anything that isn't regular iodized salt will be great!)

1 Cup of flour (special flours like whole wheat, almond meal, or gluten free are always welcome. Try to avoid anything wheat that says "enriched" with vitamins.)
Now for the butter. If you are using butter you need to melt it. If you are. If not a great alternative is olive oil!
2 Tablespoons of butter OR 1 1/2 Tablespoon of Olive oil. NO Margarine is not a substitute for butter!!! ;)
Add it to the buttermilk creation, give it a whirl!
The last ingredient is our egg substitute and the stealer of the whole show.
Take this and mash it into the dry concoction, mushing it in there as much as possible. Then eat the other half or freeze it for a smoothie!
Now mix ALL of the ingredients together and mix till its smooth, but it doesn't have to be perfect. Bananas get crazy! Turn the stove on to medium. After that use the mixin spoon to drop about a 1/4 C at a time onto the pan and cook it up! It sould only take a few seconds per side once the stove is all heated up.
BOOM. Quick, easy. DELICIOUS. These are a stable nowadays. So easy and fun.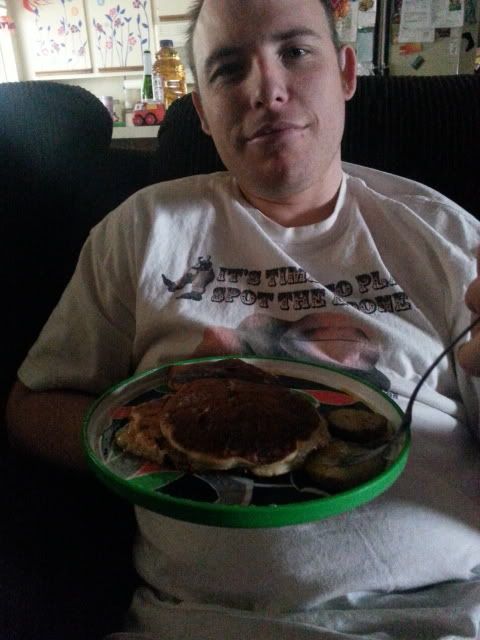 The man wouldn't even stop eating to let me take a picture of my pancake delights!