These are my new signature dish! I found the original recipe
here
, but it really wasn't enough for me, and something needed to be changed (don't be mistaken, they are DELICIOUS, I just added personal flair and used FRESH ingredients) so I had to change it around quite a bit.
Here's what you'll need in order to impress everyone you know, for REAL! Prepare to be amazed because you really cant ruin these and they are the ultimate food if everyone in the house likes different flavors or someone has strong desire to be an individual or a rebel. ;)
Ingredients:
about 1/2lb of fresh spinach, but if you have a family or group of more than 3 people you'll wanna use a full pound and everyone should get 2 burgers (and maybe more depending on how big you make them)
3 eggs
half to a full onion, depending on if anyone in your family loves or hates onion.
1/2 c shredded cheese (of course you can add more cheese if you'd like!)

1/2 c bread crumbs
2 tsp Chili powder (or red pepper flakes, or whatever kick you want these to have)
1 tsp salt
2 tsp garlic powder
Bread to put them on, or tortilla/pita if you want a wrap, or just plain bread!
Condiments - ANY THAT YOU CHOOSE. We had a whole buffet set up with things like Enchilada sauce, dining mustard, BBQ sauce, mayo, ketchup, various salad dressing, etc - these burgers are AMAZING with anything, and everyone can have funzies trying many different combos! (I just as I typed that realized how delicious feta cheese would be on these....)
So here's what we do...:
Chop up the Spinach , doesn't have to be really small - just enough so it mixes and meshes well!
Mix it all together in a bowl.
Put some oil (of your choice) in a large pan to cook these babies up in.
Here's the messiest part - if you have children make sure someone is watching them cause youll have your hands literally full for a few minutes - Make them into patties with your hands and throw them in the pan. You wont get them all in at once, so make the next batch wait their turn!
Cook on med-high heat for about 5 minutes, or until they are turning golden and seem to be holding together a little better and flip them - they wont be perfect so don't worry too much, it will all come together when they hit that bun!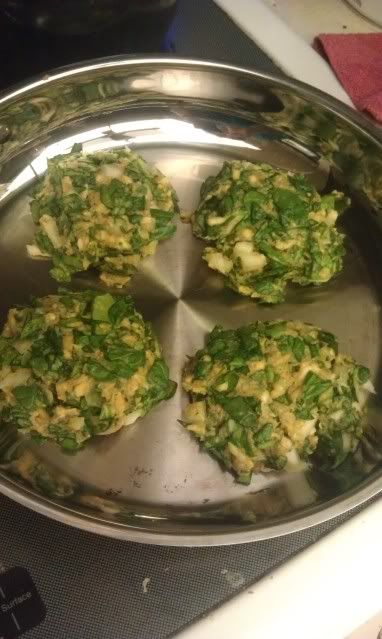 When both sides are done throw your new favorite food on a bun or whatever you chose, decide if you also want tomato on your "burger" then let everyone come dress it themselves. Then just relax and enjoy everyone's "ooh's," "ahhh's" and "oh my god this is the best thing I've ever put in my mouth" that echo through your home!
The baby even chomped down and ate a burger of his own, and he HATES GREEN FOOD!