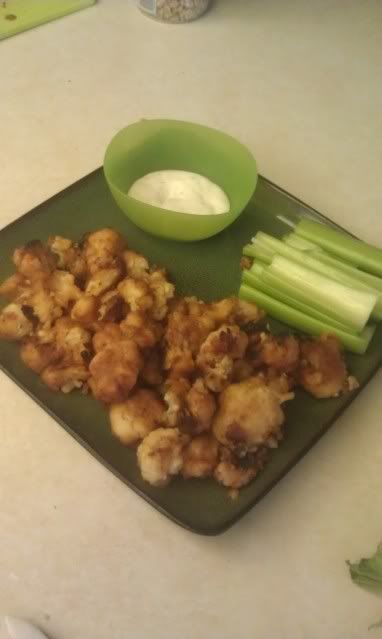 A friend of mine (And irregular author of this blog, Tiffany) posted that her boyfriend made her Cauliflower wings, on Facebook. This idea was so awesome to me that I did some research.
I found the following recipe at Daydream Kitchen:
Ingredients
Batter:
Dash of Frank's Original Hot Sauce, or whatever kind you like
½ c. white rice flour
½ c. water
Pinch salt
For the Buffalo sauce:
¼ c. Frank's Hot Sauce
¼ c. oil, canola oil works best
Pinch salt
Instructions
Preheat oven to 450 degrees. Mix together the batter ingredients in a small bowl. Dip the cauliflower in the batter until coated evenly then place on greased baking sheet. Bake for about 15 minutes or until the batter hardens.
Mix together sauce ingredients in a small bowl. Once the cauliflower are done baking, brush them with the hot sauce mixture and bake again for a few more minutes, until cauliflower is crispy.
Remove from oven. You may want to add a bit more buffalo sauce to taste.
Now Im not really that into spicy, so I touched it up a bit...
The initial batter that you coat the cauliflower in is similar to the above recipe in mine, only I put some cayenne powder, Paprika, and chili powder in it as well to really get that flavor into the cauliflower. Also, I used 1 whole cup of both unbleached flower and water. I had a big head of cauliflower! And I used Olive Oil instead of Canola oil... I dont know why exactly but Canola oil just doesnt feel healthy when it goes into my body like Olive Oil does!
I didnt have "Frank's" Hot sauce, but I did have tapatio...
And I only added a few drops. Instead I made the sauce out of a little water, BBQ sauce (a couple of different kinds I had in my fridge,) More garlic powder, and a little butter.
You may need to leave it in the oven even longer,
until crispy!
Add some ranch or bleu cheese for dipping and a side of celery and my day was much better!
In the end the taste was AWESOME. I love it, but I do suggest doing a second or third layer of the sauce before taking it out of the oven. I could use some more bbq flavor, but not to knock it at all! It is delicious and great for toddler finger food with an added bonus of being super healthy and vegan!
And this is an awesome new way for me to get veggies into my 2 year old!